I was awarded the Versatile Blogger Award by Laci at
Home Grown Happiness
! Thank you for for the great honor! I didn't even know this ward existed!
First here are 7 things that you may not know about me:
1. I am the 5th child in a family with 6th children.
2. I met my husband online and we married after dating for 6 months
3. I threw disc and shot in track for two years in high school
4. Orange is my favorite color!
5. I donate my extra milk that my baby doesn't eat to babies that need it.
6. I don't like to follow recipes, measure ingredients or follow patterns when I cook and sew; I like to just make it up as I go
7. One of my favorite things is playing card games with my family
Now to the 15 bloggers that I feel are worth of such an award: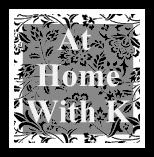 To accept the award, there are several steps:
•Thank the person who gave you the award and link back to them in your post.
•Tell us seven things about yourself
•Award fifteen recently discovered new bloggers (mine aren't all new...but I tried)
•Contact these bloggers and let them know they've received their award.